Why Brazilianista?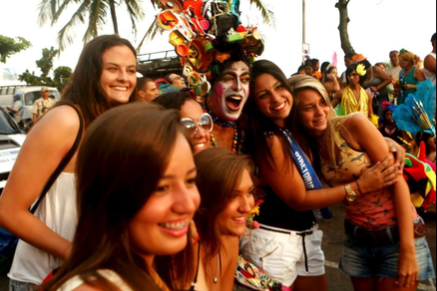 Brazilianista offers local knowledge of the land-marks and the hidden secrets of Brazil. Our flexible daily itineraries mean you're always free to join in or take off on your own.
Here's what some recent Brazilianistas say…
"For those looking for adventure, beautiful places and exotic experiences, travelling with Andrew is just that."

"Andrew has that touch of Brazilian in him that puts his tours ahead of the rest.'"
On reading about his trips in the Sunday paper travel section, I decided then and there this was the sort of trip I was after. A small group (maximum 12) with the opportunity to get to know your travelling companions, who in our case were a great, fun-loving group, ranging in age from late-40s to early 70s.
Yes, we were all there for the 'samba school' midnight dance party in Rio, on our second night there and had a ball. I don't think there was one of us, prior to leaving our hotel at 11pm, who didn't yearn longingly for the beds we were leaving behind, but once inside the huge hall, with the music pulsating and caipirinhas aplenty (a favourite brazilian drink with bite), we were all caught up in the magic.
After Rio, Andrew took us north to Salvador, where you are immersed in the afro-brazilian culture so different to the Rio scene. So many exciting and amazing places to visit there.
Then a couple of hours 'fast cat' boat ride over to the lovely island of Morro de Sao Paulo, where you enter a different world. This place is something else – seeing is believing!
And there is so much more to say, but more importantly, it is Andrew – with his many years of experience in Brazil, who can deliver these wonderful holidays to those of us who have the desire and time to take advantage of his tours.
We found Andrew to be very flexible in his choice of destinations – any suggestion is given consideration.
Good job Andrew – keep enjoying what you're doing and making people happy!'
Leonie Finch - leoniefinch4@bigpond.com
"The ultimate Brazil tour, with Andrew - the ultimate Brazil tour-guide (or Mestre da Excursão as he came to be known).
The journey felt all encompassing, with lots to suite the needs of all personality types, from the extrovert to the introvert. We were given solid doses of music, dance, food & drink, architecture, street-life, night-life, favela-life, city beaches with the locals, resort beaches, vistas that could make you weep, remote locations with all the exotic flora & fauna you could wish for, all while consciously avoiding the worst of the tourist traps along the way. We were kept safe, by a man who knows, speaks, lives and dreams the Brazilian ethic every day of his life. As some locals pointed out to us, we were very fortunate to have in our midst a man who's seen more of Brazil over the last 30 years than almost anyone.
"Two words sum it up - absolutely brilliant."
Dr Guy Sansom, Fitzroy, Australia - roadtripping@lycos.com
I've travelled to every continent in the world, except South America. I'd always wanted to go to Brazil, but had never made it. I didn't' just want to go there and tick off the major site-seeing regions. Other travellers said it's not always easy to get into the heart of Brasil if you don't speak fluent Portuguese and have local contacts. They'd told me that Brasil was a special country that is best enjoyed by that invaluable resource "local knowledge", a way of accessing the essence of Brasil… the people, the life-style, the joie de vivre that we have all heard of. But how to find it?
Luckily for me, I was part of your small group of travellers to Brasil. In Rio, staying at a little hotel in Ipanema away from the tourist areas of Copacabana, I really felt like I was living the local lifestyle. You introduced me to other Cariocas, the corner cafes, the famous beaches and of course, the unforgettable Rio life-style. Certainly we saw all the major land-marks, but often these were stops on the way to a popular local bar, famous night club or an unforgettable Brazilian game of futebol! All done with your explanations of local traits and characteristics and impeccable sense of humour, that helped interpret the essence of Brasil for me - an Australian-Brazilian translation of a different kind… but one which led to
"an unforgettable experience that you can only get from travelling with someone who knows Brazil intimately."
Outside Rio, we stayed at guest houses and hotels where you were knew the owners so well, we were made to feel like their friends, as well as guests. Special dinners, great conversations, again…. Local experiences it's impossible to replicate without local knowledge.
Simon Whitney, Elwood, Australia - riversx69@hotmail.com
I recently did a five week trip to Brazil with five good friends.
Andrew was our tour guide, he met with us and designed our itinerary based on our varied interests.
Having visited Brazil on so many occasions, Andrew's passion and his extensive knowledge of the people, culture and history took us to many places not frequented by other tourists. Whether it soccer or samba clubs, beaches or churches, tropical islands or remote wetlands, Andrew was the man. He knows where to go, where to stay, what to pay and how to have fun.
Throughout our journey he was very considerate and generous,
"Andrew wanted us to love Brazil and its unique way of life as much as he does. Thanks for the memories … a great trip. "
Peter Carrodus, St Kilda, Australia - carrodus@bigpond.com.au
MORE TESTIMONIALS
---