A Traveller's tale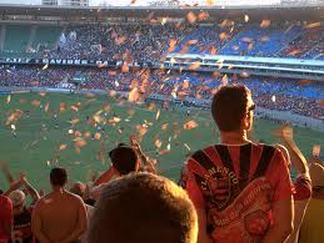 Vamos Flamengo!

Brazil's most famous city is filled with well-worn tourist icons, all worth a look. But for a truly authentic experience, head for MaracanÃ, world football's biggest and most raucous theatre, and watch the home team play.






Any traveller to Rio de Janeiro can find their way to Copacabana and Ipanema or take in the
panoramic views from the towering statue of Cristo Redentor or the Sugarloaf cable car. You
can even sign on for a tour of the city's favelas, hillside shanty towns that house a fifth of the
population and are often run by the drug gangs that service the upmarket suburbs next door.
For a glimpse of the real Rio, however, get yourself out to Maracanã, world football's biggest
and most raucous theatre, to see a game. If you're in town when Rio's big teams, Flamengo or
Fluminense, play each other, or take on a (despised) São Paulo club, you're in for a rhythmic
assault for which no football match in a rich orderly country can prepare you.
Exploit any friendship to secure seats in the home supporters' stand rather than a "safe"
tourist area or – God forbid – the visitors' stand or a corporate box. We get ours from an
acquaintance of our tour leader, Andrew Draffen of brazilianista.com. The game is a crucial,
end-of-season clash between Flamengo – the Collingwood of Rio – and Palmeiras of São Paulo.
On a sun-drenched, windless November afternoon, we squeeze into two cabs for the
half-hour drive from our host's apartment in solid, middle-class Botafogo to Maracanã in the
industrial Zona Norte. We arrive into a festive throng of fans at the entrance to the colossal
concrete stadium, which officially accommodates 120,000 but packed in a record 195,000 at a
Flamengo-Fluminense derby in 1963, in the days before anyone fretted about safety.
Flamengo fans number 25 million across Brazil and the local chapter is already firing. People
sing, chant and greet friends, fuelled by beer, guarana and Coke, care of an army of vendors
carrying ice chests. They do a roaring trade outside Maracanã because – in a rare gesture to
public order – alcohol is banned inside the stadium and fans frisked on entry.
This barely matters. As we enter the stadium – after a series of delays caused by faulty ticket
readers, manual checks and pat-downs – the excitement and chanting build rapidly. A crowd of
more than 63,000 fans crams into Flamengo's half of the stadium and there's a giant, throbbing
party under way in the bleachers. We find seats on the fringes of one of the main torcidas, or
independent cheer squads. Its members wield giant red-and-black flags on long poles and one
enormous square banner, which they spread out over the heads of hundreds of fans who oblige
by holding it high and brandishing it menacingly at the opposition.
Torcida ringleaders pass or throw tightly bound parcels of torn-up newspaper to their
members and other fans, who hurl them into the air as one at a signal. This makes the stand
feel like a very large snowdome, but a snowdome that also has pounding samba drums and the
odd flare or smoke bomb exploding into Flamengo's rubro-negro (red-black) colours.
You'd need ice in your veins not to be swept up in it all. Play may have only just begun
but the passion of the fans is palpable. The crowd seems on the verge of erupting under the
beating sun. Throughout the nearly two hours of the match fans beat their samba drums, sing,
chant, dance, jump up and down on their seats and twirl their shirts above their heads. As
befits a musical people, the songs have recognisable tunes, even verses: Vamos Flamengo!
(Let's go, Flamengo)/ Vamos ser campeões (Let's be the champions)/ Vamos Flamengo! (Let's
go, Flamengo) … (to the tune of I Love You, Baby).
Less melodiously, any unpopular decision by the referee provokes an instant chorus of "filho
de puta" (son of a bitch) and a barrage of finger pointing. No one sits; as soon as you accept
the inevitable and stand on your seat, fans spill into the space in front of you from jam-packed
aisles, where tattooed, muscular young men roll up and pass around an endless stream of joints.
They make no attempt at discretion: no official could penetrate this crowd, just as no fan can
escape it to answer a call of nature. Their severe buzzcuts, gold jewellery and generally fierce
demeanour suggest they just might be the infamous local drug dealers.
Even Rio's vice lords aren't above joining the throng at Maracanã, though you do wonder
what happens when the home side loses. Today, however, Flamengo takes the lead early
and never surrenders it. The nice young couples and families around us celebrate as madly
as anyone, striking poses for pictures after each goal as only Brazilians can. At half time, the
corporate boxes behind us get a drubbing fit for a referee.
By the time a burning flag floats up towards the roof of the stand, we're singing and miming
along to Vamos Flamengo with as much gusto as the locals who parade about with giant flags in
front of the stand. A large man behind me even whips off my just-purchased Flamengo sunhat
to ruffle my hair after a late goal. I can't work out whether I've been admitted to the brotherhood
because of my singing or parodied as a gringo pretender.
It hardly rates. The drumming, singing, dancing and jumping go on relentlessly. So does the
scoring and as the final whistle blows the Flamengo fans exultantly salute a 5-2 victory.
We pour out of the stadium, leaving what looks like the detritus of a huge rave party. We take
cabs home – the packed buses leaving Maracanã are strongly advised against – and revel in
the post-match euphoria as if we had been supporting Flamengo since childhood.
The crowd at Maracanã makes the average football fans at home look like a bunch of
Rotarians at a picnic. Much of what takes place there would be prohibited at stadium sports
here. Up to a point this is justified: no sensible person wants smoke bombs and flares at the
football. But we make mental notes to protest to Andrew Demetriou, chief executive of the AFL,
that nanny-state over-regulation of crowds is draining the game of spontaneity and colour.
Two weeks later, Flamengo lose a crucial game – thanks to the filho de puta missing a glaring
penalty, the papers scream – and 25 million fans' dreams of glory in 2008 are dashed.

Ben Potter is Melbourne bureau chief at The Australian Financial Review.


---