Brazilianista Terms & Conditions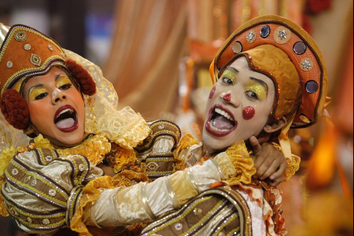 HOW TO BOOK
Please carefully read our booking conditions. By booking with Brazilianista you accept and are bound by these conditions.
To book your trip you need to pay a non-refundable deposit of $750 per person.
Before Brazilianista can confirm your booking you must advise us of your passport number, date of issue and expiry, date of birth, nationality, email address and any pre-existing medical conditions.
You must make your final payment no less than 60 days prior to departure – or we may consider your booking cancelled.
BOOKING FORM - To be completed and sent with $750 deposit.
PAYMENT OPTIONS
There are three payment options:
EFT to National Australia Bank (NAB) account .
Credit card via Paypal. Payee id is andrew@brazilianista.com
Cheque payable to Andrew Draffen and sent to 27 Barton St, Blairgowrie, Victoria, Australia 3942
THE CONTRACT
The booking conditions contain important information. Please read them carefully. By booking a trip with Brazilianista you are bound by these Terms and Conditions. Brazilianista accepts booking subject to the following conditions:
PRICES & VALIDITY – INCLUDES/DOES NOT INCLUDE
Prices quoted are per person on a twin-share basis and based on the costs and exchange rates current at the time of pricing. Single supplement is A$1400. Brazilianista reserves the right to amend prices at any time, whether or not you have paid in full for your trip. We do everything within our control not to adjust prices and will only amend prices due to substantial changes in exchange rates, transport costs, changes in taxes, increases in permit charges and other price-based operating costs.
Inclusions in Trip price
Accommodation, breakfast daily, city and village tours, transfers to/from airport, transport to attractions, Pantanal safari (in Best of Brazil tour).
Exclusions from Trip price
Airfares (except where otherwise stated), passport and visa fees, vaccination charges, travel insurance, excess baggage charges, airport taxes, tips, extra meals, laundry, postage, drinks, medical expenses, park entry fees, optional activities, additional expenses caused by delay, accidents or disruption of planned itineraries, and any items of a personal nature are not included in the trip price.
RESPONSIBILITY
Except where stated otherwise, Brazilianista acts as agents for service providers when making arrangements for your trip. Where Brazilianista provides services it will do so with due care and skill. Brazilianista is not responsible for the acts and omissions of others, including tour guides, airlines and accommodation providers or for any loss, damage, death, injury or expense (including loss of money paid in advance), which you may incur as a consequence of the acts and omissions of others.
Brazilianista will not accept responsibility or liability if you contravene any law or regulation of any country visited. Any independent arrangements you make that are not part of Brazilianista's trip (including pre- and post-accommodation) are entirely at your own risk and Brazilianista cannot and does not give you any assurance, representation or warranty in connection with any such arrangements.
To the fullest extent permitted by law, Brazilianista does not accept liability for any loss, death or injury, or damage, however caused which you may directly or indirectly suffer in connection with or arising from this contract or your participation in this trip, or in respect of a failure or omission on the part of Brazilianista to comply with its obligations under this contract.
You agree to release Brazilianista and its employees, agents and representatives from all costs, liability, loss and damage incurred by you in connection with your participation in any trip, and waive any associated claims you may have against Brazilianista as a result of your participation in any trip.
CANCELLATION BY YOU
If you wish to cancel your reservation, the cancellation must be received in writing. The date of trip cancellation is the date on which it is received by Brazilianista.
The following fees will apply:
60 days or more prior to departure – loss of deposit
Between 30 and 59 days prior to departure – loss of 50% of total booking cost
Less than 30 days prior to departure – 100% of total booking cost
No refunds will be made if you voluntarily leave a trip for any reason after it has begun. Refunds will be at the discretion of Brazilianista if you are involuntarily forced to leave a trip for any reason.
No refunds will be made for any accommodation, transport, sightseeing, meals or services not used.
CANCELLATION BY BRAZILIANISTA
Brazilianista reserves the right to cancel any trip and will advise you of such cancellations no later than 60 days before the tour departure date. If due to 'Force Majeure'* or government travel advice, Brazilianista reserves the right to cancel a departure at any time. With any form of cancellation, Brazilianista will offer you alternative arrangements or a refund of all payments you have made to Brazilianista (in the case of 'Force Majeure' or government travel advice all refunds will be less any unrecoverable costs). Brazilianista will not be liable for additional cost you incur as a result of your booking such as visas, vaccinations, non-refundable flights and loss of enjoyment.
*'Force Majeure' means a circumstance beyond the reasonable control of Brazilianista and includes, but is not limited to, war or threat of war, riot, civil strife, terrorist activity, industrial dispute, disease, industrial or nuclear disaster adverse weather conditions, fire and strikes.
BOOKING AMENDMENTS
If you wish to change your booking, the following fees will apply:
1. Transfer from one trip to another:
Amendment request received by Brazilianista 60 days or more prior to your original departure date - $100 per person per change.
Amendment request received by Brazilianista less than 60 days prior to your original tour departure date – charges as per cancellation fees.
If there has been any change in the price of your trip you change your booking to, since the time of your original reservation, the new trip price will apply to the reservation.
2. Changes to any other arrangements made in conjunction with your trip booking (eg hotels, transfers)
Amendments to any other arrangements made in conjunction with your trip reservation will incur a $50 administration fee per booking per change. This is in addition to any charges levied by hotels, ground operators or airlines.
3. No amendments are permitted to your booking within 10 days of departure.
LATE BOOKINGS
For bookings made within 15 days of departure, Brazilianista reserves the right to charge a late booking fee of $50 per booking. On some trips it is not possible for us to accept late bookings.
CHANGES TO YOUR TRIP
You acknowledge that travelling with Brazilianista requires a degree of flexibility, good humour, and an understanding that the trip's route, accommodation and modes of transport are subject to change without prior notice due to local circumstances.
Should Brazilianista deem it advisable to amend an itinerary for any reason, it may do so by shortening, varying or re-routing any trip. Brazilianista does not accept responsibility for loss of enjoyment, delays or compensation resulting from circumstances beyond Brazilianista's control. You acknowledge that group sizes may also vary during the duration of your trip.
AUTHORITY OF LEADER
While travelling with Brazilianista, you agree to accept the authority of the leader and local operator at all times. This includes any decision that the Brazilianista leader makes about your on-going participation in the trip or certain activities that comprise part of the trip. If you fail to comply with a decision made by Brazilianista's leader, or interfere with the well-being of the group, then the Brazilianista leader reserves the right to terminate this contract and order you to leave the tour immediately, with no right of refund.
LOCAL PAYMENT
Our trips require a compulsory local payment, which is part of the contract with you and Brazilianista. This amount is the final payment for your trip and is to be paid in US$ cash, to your leader upon arrival. The local payment is non-refundable and is considered part of the total trip payment. It is used by the tour leader to pay for local guides, local transport and entry fees to some sites visited.
COMPLAINTS
If you have any complaints about your trip, you must make it known at the earliest opportunity to the tour leader, who will normally be able to take appropriate action. If at the end of your trip you feel your complaint has not been properly dealt with you must notify us within 30 days of the end of your trip.
TRAVEL INSURANCE
Travel insurance is compulsory for all Brazilianista travellers. Your travel insurance must cover accidents, injury, illness and death expenses, including any related to pre-existing medical conditions, emergency repatriation, and personal liability. Brazilianista also recommend it covers cancellation, curtailment and loss of luggage and personal effects.
PASSPORT/VISAS/VACCINATIONS
It is your responsibility to carry a valid passport and obtain the appropriate visas when travelling with Brazilianista. Please ensure your passport is valid for six months beyond the duration of your trip.
GOVT LAW
This agreement is governed by the laws of the State of Victoria, Australia
© Brazilianista
---